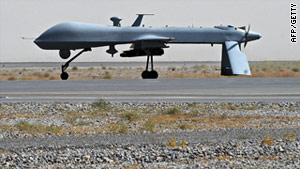 Pakistani officials: Latest suspected drone attack kills 6
A suspected U.S. drone strike in Pakistan's tribal region killed six alleged militants, the latest such attack in the region, Pakistani intelligence officials said.
Based on a CNN count, Tuesday's strike brings the number to 109 this year, compared with 52 in all of 2009.
It took place in North Waziristan, one of seven districts in Pakistan's volatile tribal region bordering Afghanistan, where suspected drone strikes targeting militants have spiked in recent weeks.
Two intelligence officials said the suspected drone fired two missiles on a militant hideout in the area of Ghulam Khan.
Later, a suspected drone circled around the blast site and fired two more missiles.
The intelligence officials asked not to be named because they were not authorized to speak to the media.
The strike occurred less than 40 kilometers (24 miles) from two suspected drone strikes on Monday, in which at least 18 people were killed.
Last week, Pakistani intelligence officials recorded the single most violent day of recorded drone strikes:
On December 17, three separate drone strikes killed at least 57 people, a record for one day. All the deaths were in the Tirah Valley area of the Khyber Agency, north of North Waziristan